I do this every year. These songs are what I loved this year, or what reminds me of this year, and are arranged in an order that I think has a great flow and is super appealing to your ears. The playlist used to be designed to fit on an 80-minute CD; this year, it's slightly longer, so you'd have to cut off the last song if you want to burn it to a CD. Happily, you would definitely do that anyway, even if you had plenty of minutes to work with.

Download the zipped folder here. You might need an app to unzip the files and play them on your phone. Ask Siri!
People sometimes ask, "Hey mate! Crikey! Could you fashion this into a Spotify playlist?" Well, it's almost 2017 and I still do not have a Spotify account, largely due to the fact that I work in a basement with a poor mobile data signal. And honestly mate, you can't get all of these hot tracks on streaming services. They're too hot!

If the songs get lost in your media library, just search for the ones with the genre labeled "Dan2016".
I've been inserting my own cover art into the mp3 files for the past few years. This year, it's a photo I took in the Smoky Hills of Kansas, near Ellsworth. #nofilter? No, there is a filter.
1. Election Profit Makers (David Rees) - C'mon! We're America! And EPM Theme
Listening to the
Election Profit Makers podcast
this year was a great source of joy. This track combines the opening of episode 2 with the full theme song played at the end of episode 17. Why did I spend so much time converting the files to mp3, and perfectly syncing two separate tracks? Because Joe Fucking Biden's convention speech combined with this music gets me so psyched! C'mon!
If you would like to hear a fun mixtape by podcast host David Rees, featuring songs like "Paging Dr. Carson" and "Call Me Rudy" - a Guliani/Carly Rae Jepsen mashup -
check it out
!
2. Ofelia K - I Love My Lawyer
I learned of this song because the host of podcast "Totally Beverages and Sometimes Hot Sauce" (and co-host of the Totally Married podcast) is a music producer who worked with the artist. If you like this song, check out her songs "
As a Bell
" and "
Another World
".
3. Paul McCartney & Wings - Jet
I love how much fun Gus and the other partygoers are having covering this song in episode 4 of Netflix' "Love". "Love" was a pretty good show I watched in 2016.
4. Savages - Evil
I am often frustrated because I find it hard to find rockin' tunes in this era of dance electro pop and delicate indie bands. Savages gave me some of the rock I crave. I also listened to a lot of Ghost and Mercyful Fate this year, because Swedish metal satisfies my craving for rock.
5. Mike Adams at His Honest Weight - Bronze Worlds
Remember when I put three Mike Adams songs on last year's soundtrack? He put out a new album in 2016, and he's still got it!
6. Andrew Bird - Puma
"Are You Serious", from which this hot track comes, was my second-favorite album this year. It has a duet with Fiona Apple that really appealed to me before I listened to it. Meh, I guess it's fine.
7. Car Seat Headrest - Fill in the Blank
This is from "Teens of Denial", my favorite album of the year. If you put headphones on and crank it up, it's a really good time. "Drunk Drivers/Killer Whales", "1937 Skate Park", and "The Ballad of the Costa Concordia" are my favorites, along with this leadoff track.
8. Royal Headache - Wouldn't You Know
On Michael Ian Black's "How to be Amazing" podcast, Chuck Klosterman recommended this band despite calling them a "strange combination of 80's synth music and 90's indie rock, and that sounds terrible when you imagine them smashed together". I do not think the songs I have heard resemble that much, and this song is basically in the Monster Ballad vein.
9. Grimes - Kill vs. Maim
I had not explored Grimes until hearing her tell the somewhat insane origin story behind this song on the
Song Exploder podcast
: "I had been watching Godfather and Godfather Part II, and I just had this thought in my mind of this insane movie that would just be like, The Godfather with vampires. Like a combination of Godfather and Twilight. I just wanted to make the trailer to the fictional movie in my mind.".
10. Coldplay - Charlie Brown
This turd of a year started out innocently, with harmless Chris Martin and company singing with Beyonce at the Super Bowl. When my friend James mentioned how he liked that Coldplay abandoned some of their pretense and focused on singing about rainbows and shit, I agreed and elected to look up the albums I'd missed. They're not so bad!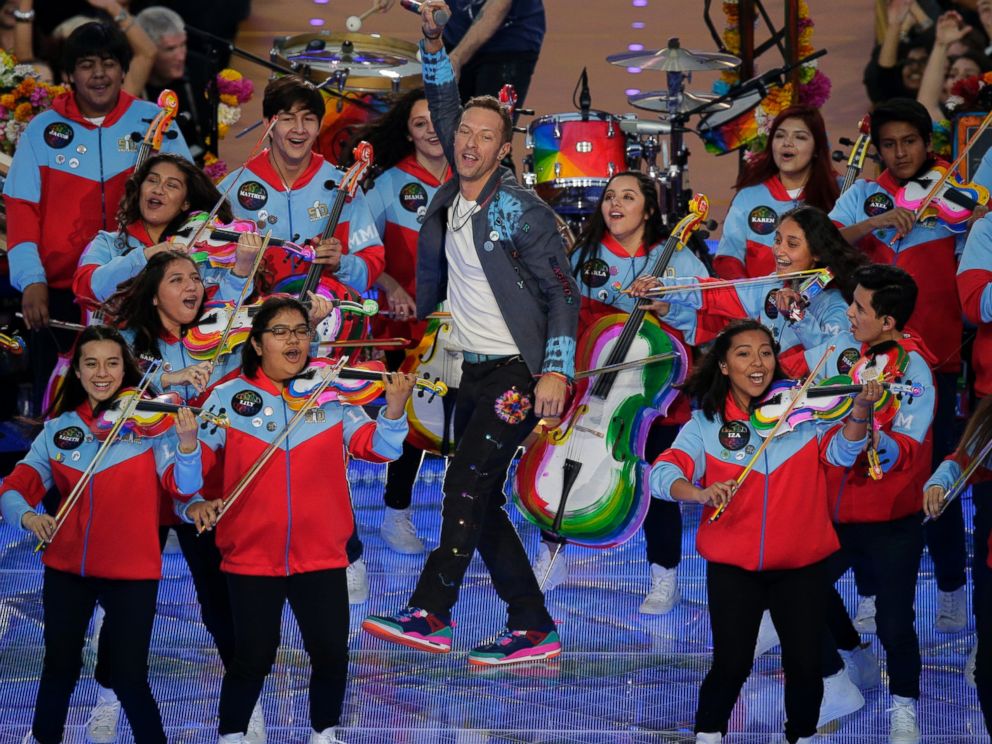 11. ABBA - The Winner Takes it All
Before the kids could talk much and therefore have opinions about the music I played on the way to daycare, I played some ABBA, thinking its worldwide appeal would strike them. They seemed pretty indifferent - maybe because they were not great at talking. Then, this summer, while I balanced on a ladder to repaint some flashing outside our living room windows, I listened to the
Crybabies podcast
. Tom Scharpling, the host of ANOTHER PODCAST I LISTEN TO - I LISTEN TO A LOT OF PODCASTS IS THE POINT OF THIS SOUNDTRACK, I GUESS - talked about how this song makes him cry. "The guys are writing the songs for the ladies to sing… it's insane that… they were breaking up at that point.... Agneitta and Bjorn…[he] wrote this song that she had to sing about losing while they were splitting up, and she's saying "I lose", but it's his words."
12. Queen - Tie Your Mother Down
Watching a
1981 Queen concert
on cable one night, I again thought, "Maybe the kids will like watching this. Freddy Mercury looks like a lot of fun, right?" They watched a YouTube clip for a bit and then forced me to turn something else on. Anyway, I decided that my knowledge of Queen wasn't what it should be, so I reserved every Queen album that was available at the library. "A Day at the Races" was my favorite among the albums I hadn't already experienced. I mean, as far as songs about really wanting to bone down and being annoyed that your girlfriend's family doesn't want you to bone down, this song is tops.
13. Wild Nothing - Reichpop
I used to listen to podcasts while I drove the kids to daycare in the morning, but when they started talking more and more, it was time to switch to music. They were used to listening to sing-along kids music when their mom was driving, so I convinced them that I didn't have any of that stuff in my car. We started with the Polyphonic Spree's first album, because it was 1.> in my car's console, and 2.> basically sing-along kids music, complete with many references to the sun and nature. Next I brought some Beatles in the car - Abbey Road because I'd sung "Golden Slumbers" a few times to Lizzy after we read it in a lullabye book, and Let it Be because it happened to also be on that mixed CD. "Two of Us" was well-received, second only to "Here Comes the Sun".
But the most-requested song in daddy's car was "Bunny Song", aka Blur's "Song 2". It is known as "Bunny Song" because there is a teaser trailer for the Russell Brand animated vehicle "Hop" wherein the funny bunny assembles a drumkit and rocks out to Blur:
The teaser was played dozens of times before viewings of "The Little Train That Could", a low-rent animated movie that somehow attracted the voice talent of both Whoopi Goldberg and Jamie Lee Curtis. Why watch the previews every time? Our DVD remote is missing, and the universal remote I bought to take its place DOES NOT FUCKING WORK WITH THE GOVIDEO DVD/VCR COMBO EVEN THOUGH I HAVE TRIED EVERY POSSIBLE CODE AND TRIED TO LET THE REMOTE SEARCH THROUGH EVERY ONE OF ITS CODES TO FIND A MATCH.
15. Eleanor Friedberger - False Alphabet City
I continue to like Ms. Friedberger a lot.
16. David Bowie - Width of a Circle (live)
Some cable channel was airing the Ziggy Stardust and the Spiders from Mars show in the weeks after Bowie died, so I had it on that night as I was browsing the internet. At some point I looked up the setlist, and was astounded to find that I'd only heard 2 or 3 songs in the last 30 minutes. This song has extra-long, face-melting guitar shredding in middle because Bowie needed time to go change his alien spandex outfit. 17. Def Leppard - Let's Get Rocked
On May 19, I took to social media:
Yesterday I thought, "It would be funny if I changed my phone notification sound to the Def Leppard singer saying 'Do you wanna get rocked?' from the beginning of their hit 'Let's Get Rocked', the opening track off 'Adrenalize'."
And I still want to do that but I don't have a digital copy - I had the cassette in 1992 but that wouldn't be useful even if I could find it - and due to ongoing disagreements between DL and their label, no downloads are available, so I'd have to buy a physical copy of that CD, because I already checked the library and they don't have the album.
So, I still think it would be a good project and man, if you've ever heard Joe Elliott say those words you HAVE to agree, but this is going to take some planning and effort, so please stay tuned, especially the only two people who probably care…
Later that night, success:
Thanks to everyone for their kind thoughts and understanding during this difficult time. Chris got me the needed snippet, and I'm loading it as my notification sound now. Also, when I was rocking the kids before they got put in their cribs, it occurred to me why "Do you wanna get rocked" has been on my mind lately.
But I still didn't have the whole song, so I went to my local, vinyl-heavy music store and found it among the used CDs. They were asking four dollars. I was furious and put it back on the shelf. Many weeks later, they had a used CD sale and I bought it for fifty cents or a dollar. Upon further listening, it's probably worth four dollars.
But yeah, the opening line of this song has been my notification sound since May 19. I thought I would keep it until someone heard it and laughed and said, "Whoa, Def Leppard?" No one has said that. I am an old person who thought someone would recognize a minor radio hit from 1992.
Also, this summer, I tried to sing this at a sparsely populated karaoke bar in St. Paul. It was after I put "Do you wanna get rocked?" on my phone, but before I bought the CD and listened to the entire song for the first time since the 8th grade. I can't sing in that key, and I hadn't remembered how ridiculous the lyrics were, so around the second verse I started laughing and badly missing notes and I had to stop. Everyone was fine with it.